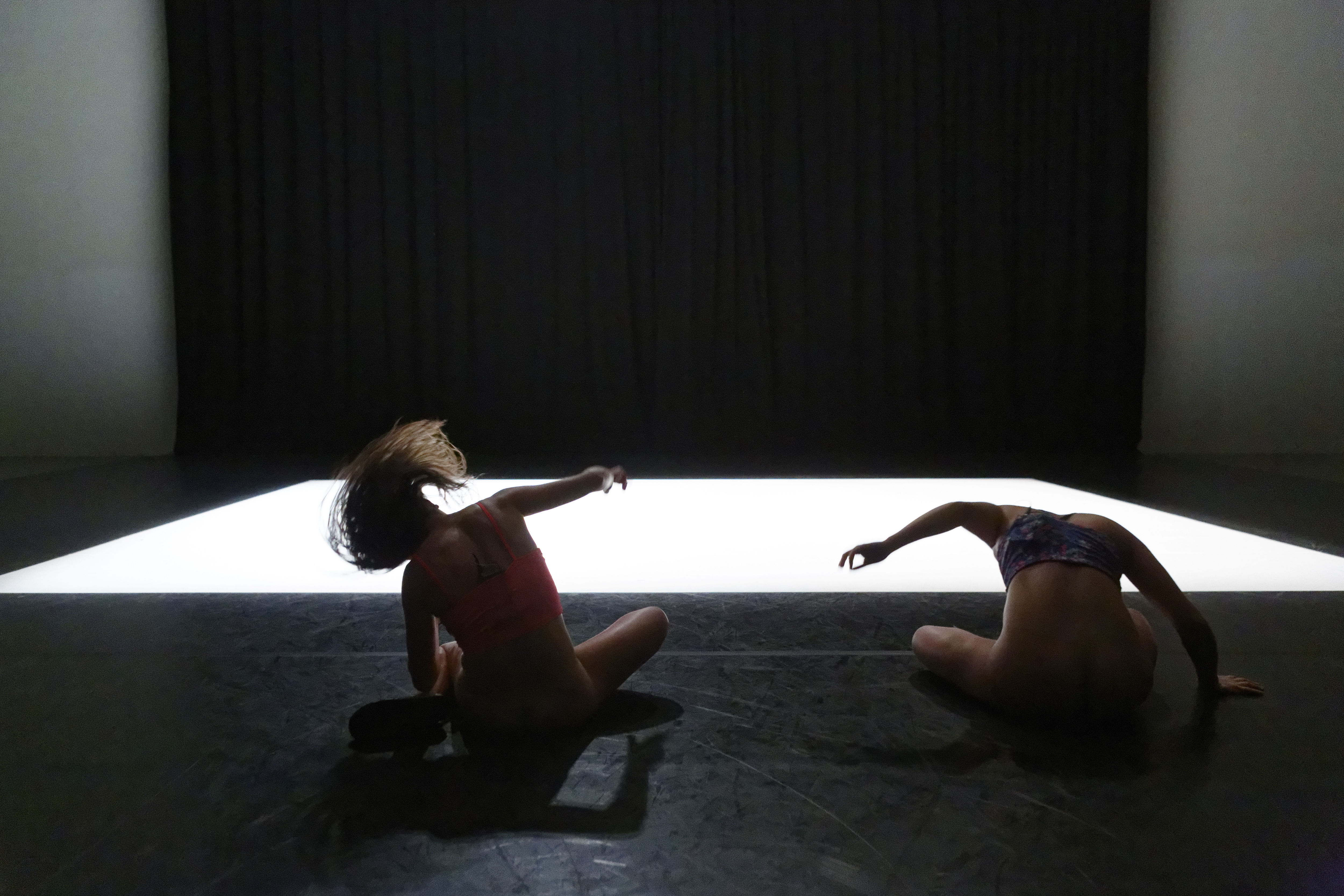 Photos: © Cristiano Prim, Marco Flávio
BLINK mini unison intense lamentation
In BLINK mini unison intense lamentation at each blinking movement of the dancers' eyelids, changes occur on stage and various worlds flourish.
After FOLE a solo in which Michelle Moura explored over-breathing and its psychophysical consequences to create an impressively persistent choreography, in BLINK - mini unison intense lamentation the act of blinking (and its interruption) its the composition tool of a dizzying choreography for two dancers and their eyelids.

A dance between the psychic and the physical world, between dreams and reality, between emotions and physicality.

PRESS REVIEW


Hans and Gretchen lost in a forest? Manga girls? Angels? Shamans? You do not know what you are seeing in Blink. On the contemporary-fairy tale like soundscape with sounds of rhythmically hitting pebbles and spacious murmuring - Michelle Moura and Clara Saito are moving in a hypnotic rhythm.
Eyes closed, eyes open, eyes turning upward, the body bent a bit forward, arms tentatively upward, hands rising to the heavens pleading. The movements are small and measured, the expression comes mostly from the face. Fear, happiness, surprise, enjoyment, sadness; we see it all.
Movements are made by each of them in their own manner, from time to time there is a mini-unison. They may touch each other briefly, or look at each other, or at the audience. But mostly it seems they are looking inward, or upward. Everything stays slow motion, a fascinating ritual.
After thirty minutes the couple sits on the floor. The light dims, but the music accelerates and the facial movement increases. It is now the mouth that moves: it hums, it sings, their sounds are processed by the computer and returns with an echo and warp. Saito repeats a single, low tone. Moura interferes with strong screeches of a monstrous cat and fragments of text like a croaking pop diva.
Together they build a strong crescendo, and then downward, and then this "generative dance for the retina and the ears", as choreographer Moura calls it is ended. Unfortunately, regrettably.
They have given us an inspiring and stimulating evening. Nourishment for the mind, eye and ear, candy for the imagination.
Jacqueline Algra IN Het Parool (Amsterdam, 29/05/2015)
CREDITS

Creation
Michelle Moura
Performers
Clara Saito
Michelle Moura
Collaboration
Clara Saito
Lisa Vereertbrugghen
Dramaturgy
Alex Casal
Sound
Kaj Duncan David
(originally Rodrigo Lemos)

Light:
Leticia Skrycky
(originally Lucas Amado)
Costumes
Lisa Vereertbrugghen
Advisors
Elisabete Finger
Jeroen Fabius
Katerina Bakatsaki
Production
Cândida Monte
Wellington Guitti
Management and Distribution
Something Great (Berlin - DE)
Co-production
SESC São Paulo (São Paulo - BR),
DasArts (Amsterdam - NL)
Something Great (Berlin - DE)
Support
La Bamba (Curitiba - BR)