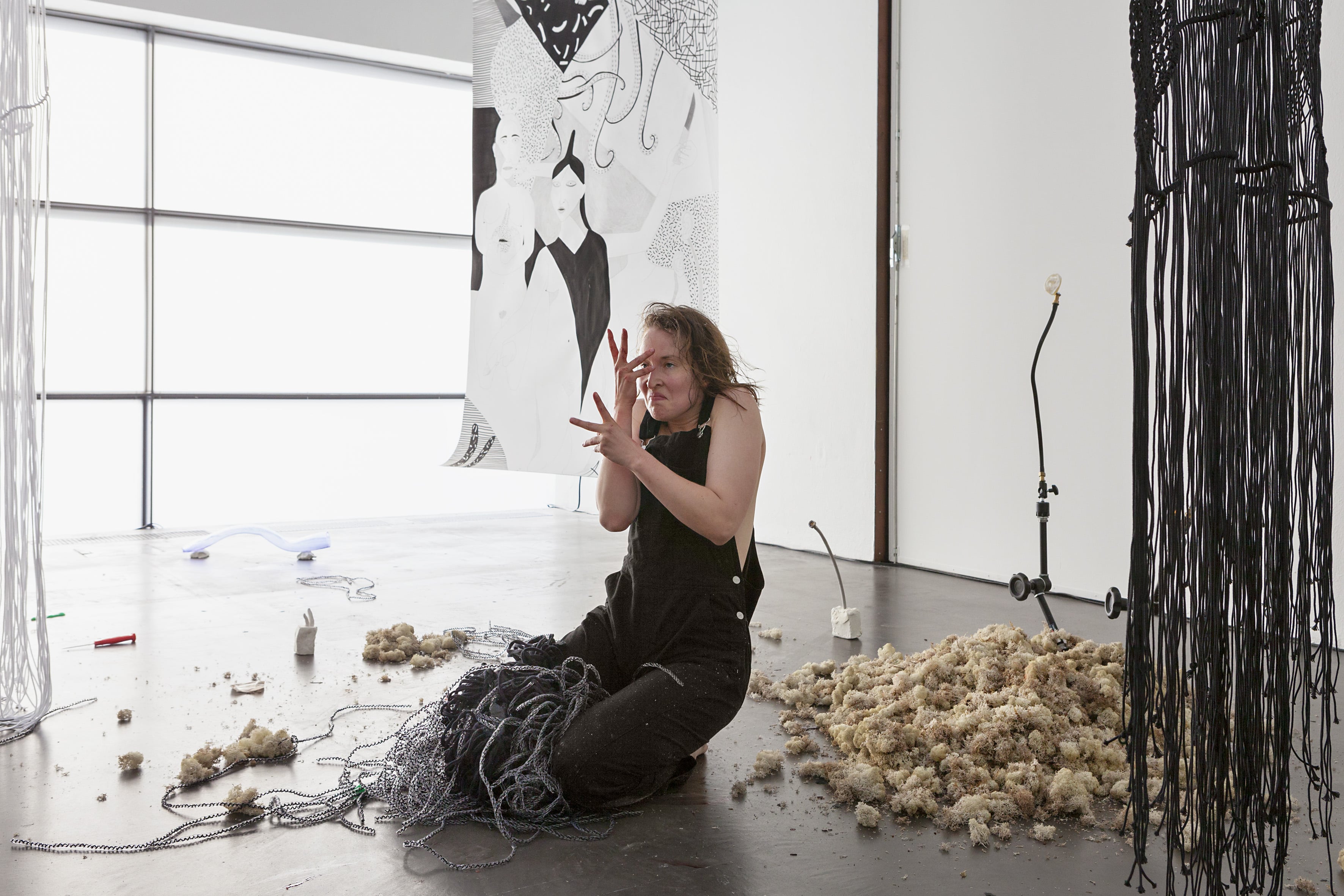 © Simo Karisalo
Howl

Howl is a transforming performance project and an exhibition space. Bodies of painting, sculpture and live performance mesh, gearing towards extended beings and hybrid bodies through interdependencies of human and non-human.

Howl is a calling upon connection beyond speech, towards another kind of speaking. In this work, textile lacing, drawing, inanimate and animate search towards a multitextural and sensual environment in which to speak in and with. They are searching for a fertility of language where textures, weight, liquid, and sound create a damp soil in which communicative tension resonates.
CREDITS

Choreography, visual works & performer
Sonja Jokiniemi

Lighting and spatial design
Heikki Paasonen

Sound design
Natalia Dominguez Rangel

Dramaturgical dialogue
Elina Minn

Performer in rehearsal
Maija Karhunen#

Glass blowing
Karl Alakoski / Mafka & Alalkoski Oy

Headdress
in collaboration with Valenti Silvennoinen

Production manager
Riikka Thitz
Distribution
Something Great

Co-production
Art Centre Buda ( Kortrijk - BE)
Kiasma Theatre (Helsinki - FI)
MDT Stockholm (Stockholm - SE)
STUK (Leuven, BE)

in the framework of
Be My Guest - network for emerging practices and Life Long Burning – Towards a sustainable Eco-System for Contemporary Dance in Europe project (2018-2022) supported by the Creative Europe programme of the European Union.