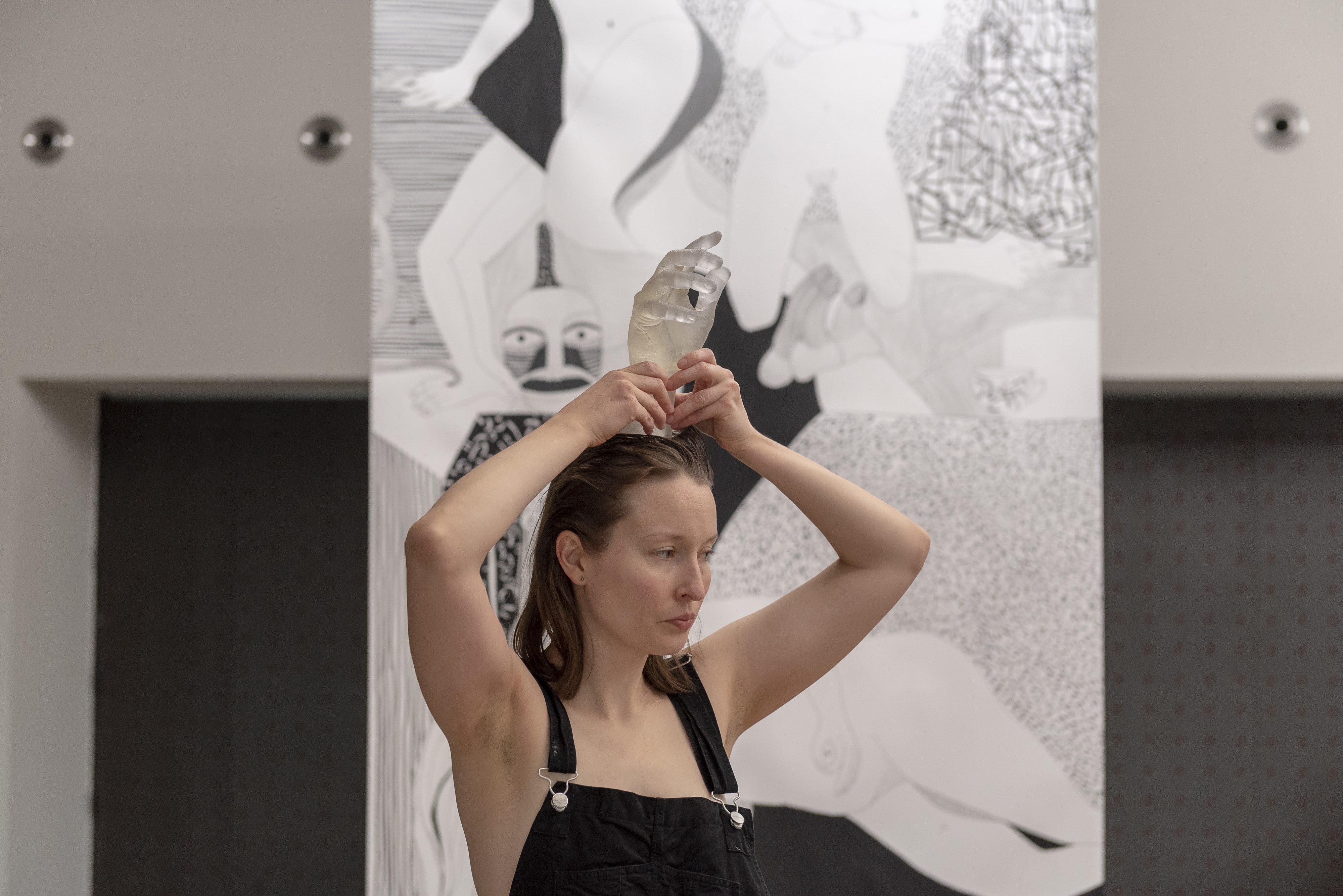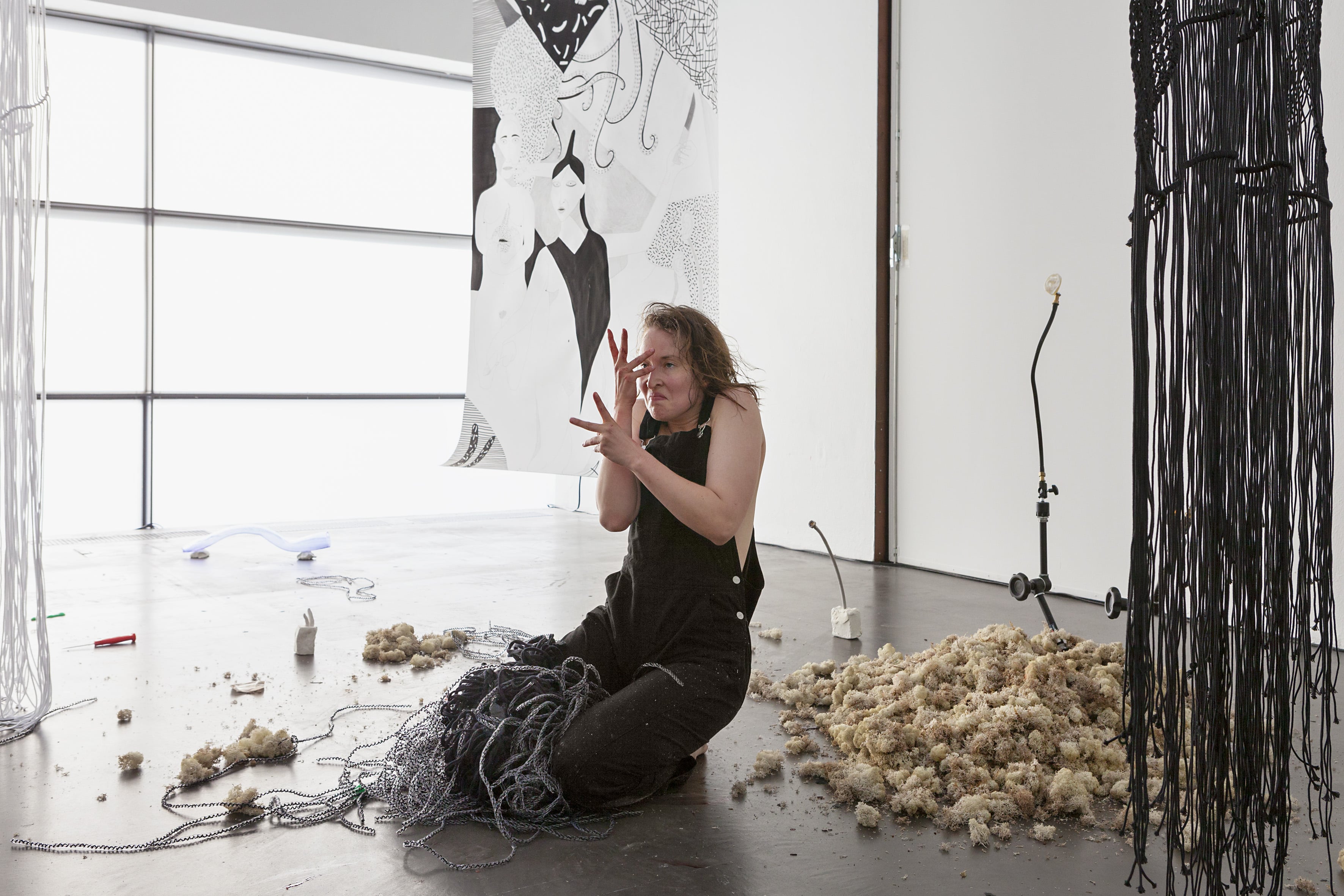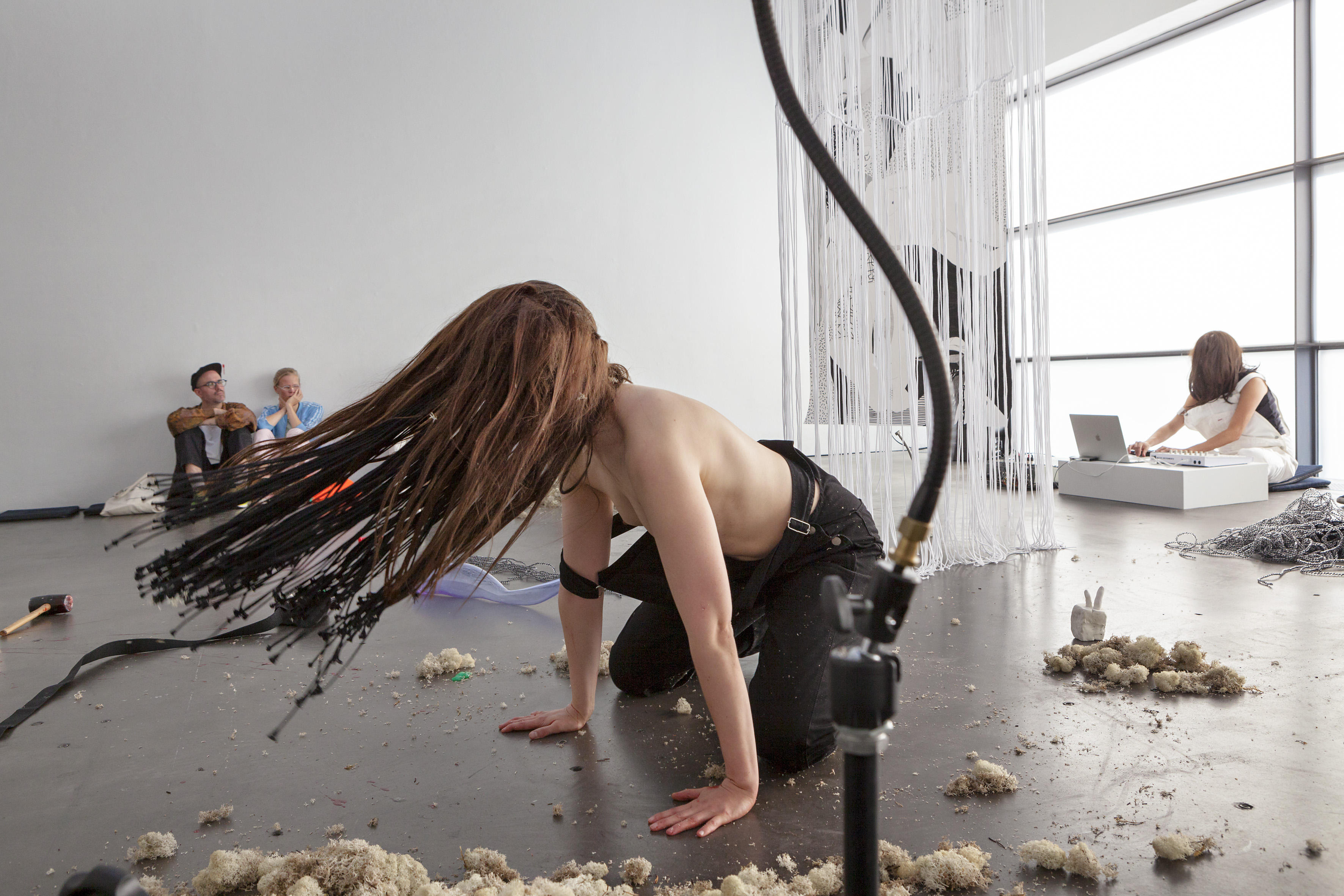 Photographs: Howl © Johan Pijpos, Simo Karisalo
Howl

Artist: Sonja Jokiniemi
Country: Finland
Type: Performance / Exhibition
Year of creation: 2019
In her fifth work by, after the group piece BLAB, full of strange, creepy and fun and sexual togetherness, Sonja Jokiniemi goes back to a self performed solo. As always, a strong point is made in the interaction with objects on stage, inspired by her Eastern Finland roots: lichen, wood, clay, knife. Two big black and white drawings and some laced textiles hang from the ceiling. The audience is sitting around the performer.

In the previous works, Jokiniemi, developing a strong personal discourse around alternative languages and new materialism, was finding in those stage objects real play partners, encouraging the audience to consider their presence with the same intensity as human performers. In Howl, the constructive dialogue is for the first time failing: inability, frustration and fear seem to take the lead, allowing the performance artist to let progressively but fully go the civilized part of this human to object relationship, destroying the ideas of normality, civilization, canalized sexuality and constructed intelligence, leading the audience to a new pallet of sensitive, psychoanalytic and carnal questions about the ecosystem. Deeply moving, sexual, violent and sad, Howl is surely her most intimate work to date.
"Jokiniemi's ambivalence to the objects around her is our own towards the ecosystem. We love and destroy nature, while still silent until it answers us in fires, melting ice and virus outbreaks. Jokiniemi touches on both intimate and big issues, both tenderly and violently. And us in the audience" -
Peter Stenson
CREDITS

Choreography, visual works & performer
Sonja Jokiniemi

Lighting and spatial design
Heikki Paasonen

Sound design
Natalia Dominguez Rangel

Dramaturgical dialogue
Elina Minn

Performer in rehearsal
Maija Karhunen

Glass blowing
Karl Alakoski / Mafka & Alalkoski Oy

Headdress
in collaboration with
Valenti Silvennoinen

Creative Producer
Riikka Thitz

Co-production
Art Centre Buda
Kiasma Theatre
MDT Stockholm
STUK

Promotion & Touring Producer
Something Great

in the framework of Be My Guest - network for emerging practices and Life Long Burning – Towards a sustainable Eco-System for Contemporary Dance in Europe project (2018-2022) supported by the Creative Europe programme of the European Union.