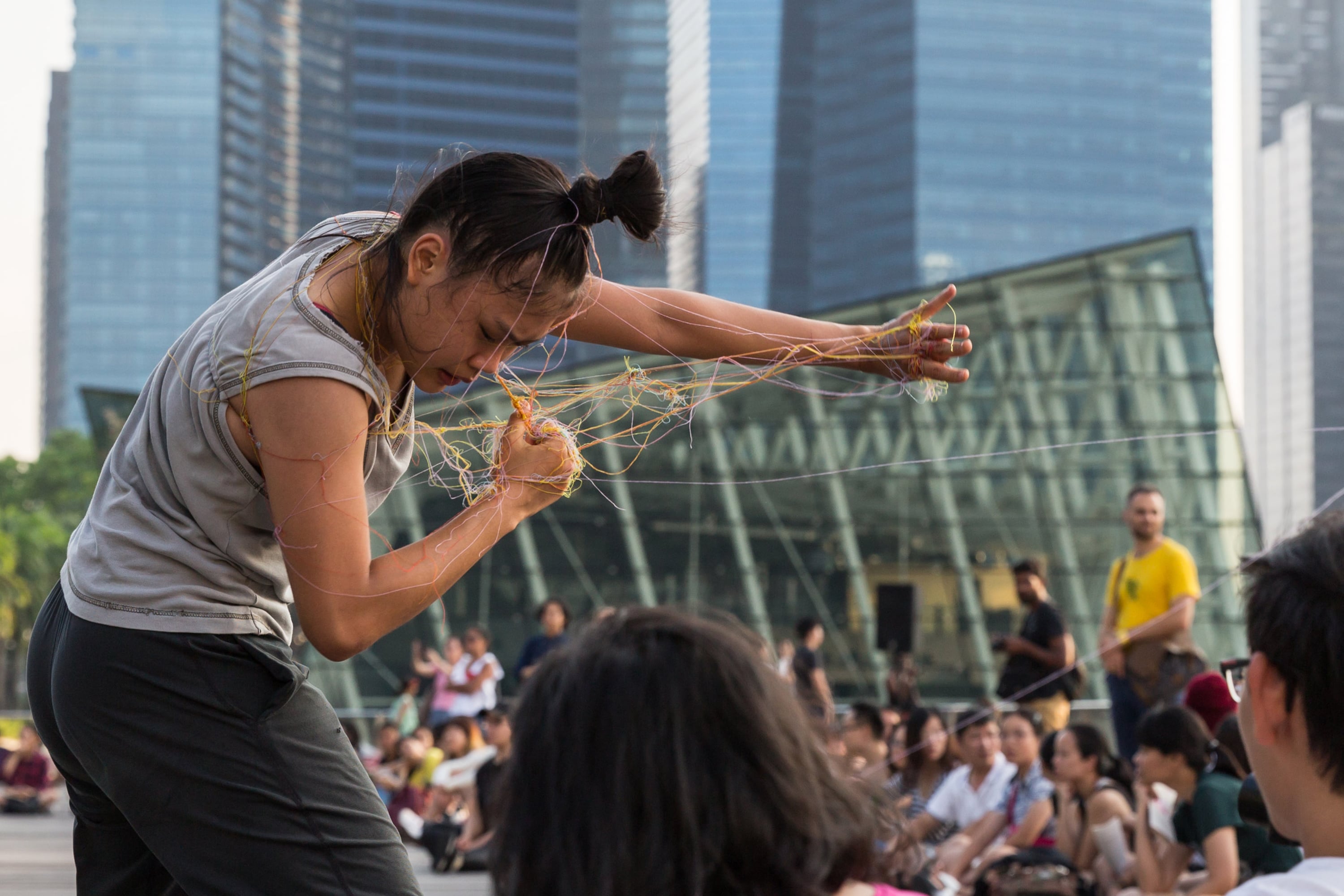 © Crispian Chan & Bernie Ng
Mark

A massive dance and drawing performance in different urban sites.

A chance encounter. Dancing in the city. Occupying public space as the sun sets at the end of a hectic day. A turning point before darkness engulfs us. Twilight magic as dancers draw both in space and literally.

In Mark, nine dancers attempt a collective drawing in different urban spaces. The traces of their gestures, acts and relations reveal what happens when a dance encounters the public. The audience is invited to join the dancers physically in a drawing, which evokes social and imaginary landscapes where people can meet one another in an unfamiliar space. They come together in such a space to discover new layers to their daily lives and to find beauty in giving attention to one another.

Mark is an invitation to a radical moment of togetherness. The act of dancing is a desire to leave behind an indelible mark on the social body.

CREDITS

Choreographer
Daniel Kok

Dancers
Lee Mun Wai
Melissa Quek
Patricia Toh
Jereh Leong
Yazid Jalil
Felicia Lim
Elizabeth Chan
Phitthaya Phaefuang "Sun"
Otniel Tasman

Sound Artist
Phu Pham (aka Dee.F)

Dramaturge
Claudia Bosse

Logistics
Shaiful Risan

Commissioned by
Singapore International Festival of Arts (SIFA)

Special thanks to
Dance Nucleus
Tang Fu Kuen
Arco Renz
72-13 / TheatreWorks
Ebenex Music

With venue assistance from
*SCAPE

REVIEWS

Mark gives us no easy answers, but reminds us that life, no matter how imperfect, has magic and moments of beauty.

In this multiplicity of perspective, choice, and possibility, there is true magic in the performance's ability to create a singular world. The performers exert psychic forces, create magnetic fields, fully intent on their purposes. Perhaps, after all, theirs is the only world that matters.