Interview
Sonja Jokiniemi: Sounds of wood clacking
Through her performances, drawings and textile works, Finnish artist Sonja Jokiniemi has developed a robust personal discourse around alternative languages and new materialism.
by Rui Silveira - Something Great

Published on 04/08/2021
BLAB by Sonja Jokiniemi © Simo Karisalo
In your performance works, you claim a space for intimacy, sincerity and broadening ideas of norms. Can you talk a little bit about that?

In my performance works, I find it essential to propose alternatives regarding topics and themes and what narration, sense, and meaning-making are. What do we consider as knowledge? That is a crucial question for me and hugely defines our way of operating in the world as individuals, groups, and societies.

I imagine a sort of "speaking with the world" as a multi-textural and multimodal practice, where spoken and written language is merely one. What inspires me in art is to propose something of other, parallel to its knowledge, that is not separated from society or politics but does not operate with the same language.

There are norms, hierarchies, and power structures inherent in language usage and what we consider as valuable knowledge. Therefore, proposing other ways of communicating and knowledge formation can open spaces for introspection, a delicate voyage to different subjectivities. That, I guess, is an intimate act.
Do your works relate to each other in any specific way, or should they be thought of separately?

I am pretty persistent in continually working with the same questions in different ways. So all projects are linked and sometimes paired. It is a consistent mesh.

Sonja Jokiniemi © Taina Koistinen
BLAB by Sonja Jokiniemi © Simo Karisalo




You work as a choreographer and visual artist. How do you combine these different mediums? Do they inform each other?


I always used drawings to create the language of my performances, trying to grasp the ungraspable.

In my drawings, I search for the expressions, positions, moods and relations that form the anatomy of my performance works. It is a non-linear process, where often both practices keep feeding into each other. But I would say it is that I start from drawings. They give me access to some subconscious logic that I then filtrate into embodiment.

Between 2011 and 2013, during my Master's degree at Das Theatre in Amsterdam, I was busy with drawing and writing tools such as pens. Namely with pens. Pens were travelling in disastrous landscapes, contemplated on chaos and order, good and evil and so forth. So drawing became (part of) performing, and there is a catalogue of images coming out of those years:

Disastrous Events.




Since then, drawing and painting have become an integral part of the performance environment itself. In the past years, I have also expanded my visual work into textile. My thinking connects this idea of human and non-human actors in meaningful relations and communication. Therefore, objects, drawings, and objects on stage are not just scenography but also co-actors. The weaving of still images, live-actions and inanimate things interest me on many levels. I deliberately work with the tension of concepts within these relations.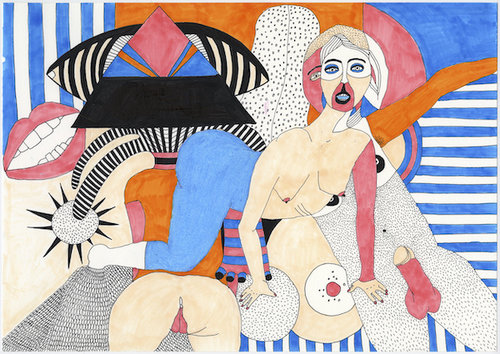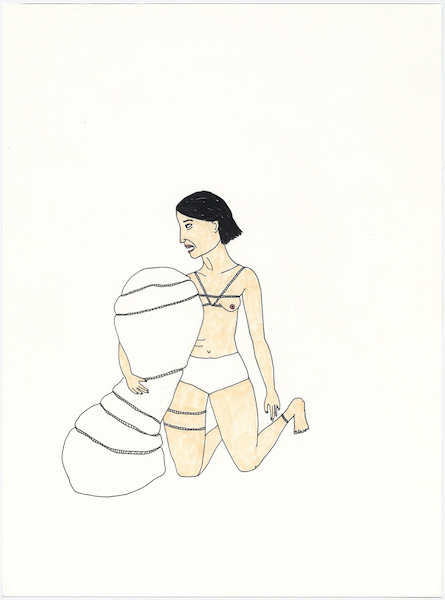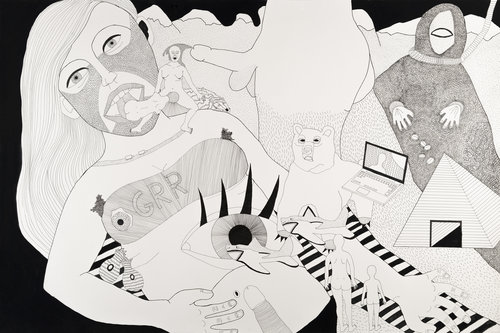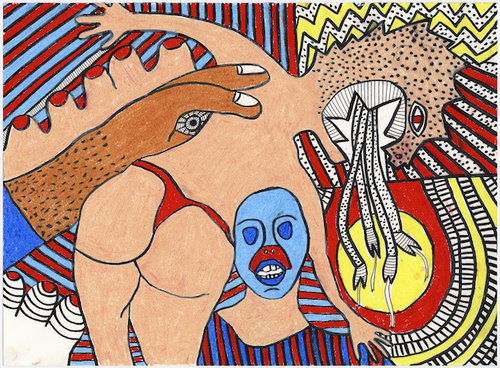 Drawings by Sonja Jokiniemi © Sonja Jokiniemi

Let's talk a little bit about the genesis of your performance BLAB. How did it come to be?

BLAB was the first group creation that I did and in which I didn't perform. It was pretty exciting that way.

I made four drawings, in which three ended up as part of the performance environment in hand-painted large canvases. They were the starting points to think around textures, colours and the universe of the work.

Another practice that I developed before rehearsals was home knotting and bondage-ing soft materials like duvets. I was researching the form of a lump to propose a hybrid - a being of not this or that. I thought about interlaced thought processes, non-linearity and textures of thinking, sensing and feeling. Those lumps somehow started to embody this logic. From there, the human activation began to interact and construct the continuation.
Mound Bound by Sonja Jokiniemi © Pekka Mäkinen
Would you tell us briefly about your recent projects Howl, Mound Bound and Öh ?
Howl
is a performance work in an installation space. It is, I guess, the barest work I have done until now. The creation started from the search for a visual, haptic and corporeal language of loss. It became a work about the loss of meaning and language, the inability to communicate, ghosts, monsters and the complexities of being in this world.


Mound Bound
is a spoken word concert. Once again, I worked with objects, such as hand-carved Karelian wood blanks by my father. But this time through a spoken narrative. The songs portray autobiography and fantasy of the past, of the 90´s recession in a small town in Finland, of working-class, youth, nostalgia, death and friendship.


ÖH
is the last work I did. In many of my works, I engaged with the principle of knotting: knotting and binding as a way to create mobile structures, logics of repetition, variation and accumulation, of fringes, kind of mushrooms displaced, of yarns and threads; ultimately trajectories and lines, that are crossing, lacing, braiding and entangling. It is, at its core, a choreographic question. How do things come to be through processual making? How is the making of textile objects a way to engage in bodily research? Partly it is related to the idea of hapticity and sensations through seeing, touching and hearing, and of linguistic rhythms and embodied labour.
You have developed community projects within the social sector. Can you tell us a little bit more about that?
I have worked on different occasions with people with autism from 2014 until today. I have also worked in various institutions project-based—for instance, a housing association in Helsinki, where people with long-term mental health issues live.
Together with other artists, I recently participated in a project in Belgium called
Ongehoord
, initiated and curated by Leni van Goidsenhoven. It consisted of a series of workshops for six weeks full time, in which we developed practical artistic work reflecting on multi-sensorial communication and listening, textured dialogues, and horizontal knowledge production. It also included an exhibition at the Dr Guisilaan Museum in Ghent, which runs until the 4th of July 2021.
What's one thing you'd like people to know about Sonja's Jokiniemi's work?
That my artworks can have multiple readings and interpretations.
What inspires you?
Art inspires me. Many kinds of art do. Also, craft, especially different textile-making traditions. Garages and toolboxes. Ghosts and monsters. Rugs, masks, rrrr, black. A line and a dot. Wood, yarn, rope and hair. Psychoanalysis. A and O. Language. Phallus, vulva, hmm. Wood, spit, lumps. Repetition.
If you could describe yourself as a person in one image, what image that would be?
It would be a dot and a line on a blank page trying to understand what it is all about.
If you could resume your work in a sound or music, what sound or music it would be?
Mm Mm Mm Mm Mm Mm Mm a Mm Mm Mm Mm a M a M a M a M a M a a a.
Sounds of wood clacking.
Psychic TV: Rites of Reversal from Sugarmorphoses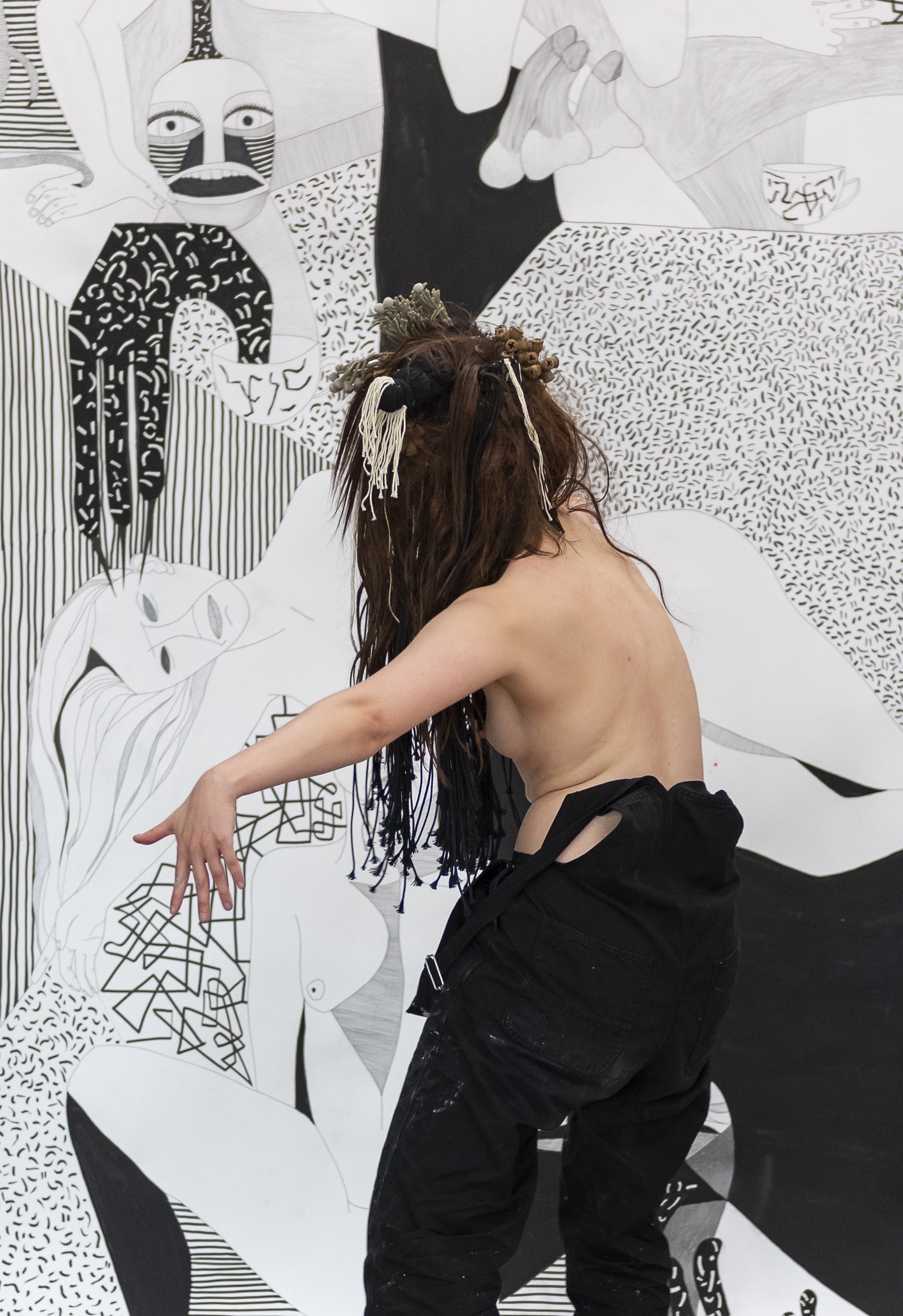 Howl by Sonja Jokiniemi © Johan Pijpops
Mound Bound by Sonja Jokiniemi © Pekka Mäkinen
ÖH by Sonja Jokiniemi © Katri Naukkarinen

Sonja Jokiniemi (Helsinki, 1983) is a choreographer, performer and visual artist based in Helsinki, Finland and Lausanne, Switzerland. In her work, Jokiniemi engages the practice of drawing, human and non-human actors, textile making, questions of language and communication and exploration of bodies and sensations as a way to think around networks of things and beings and their ordinary and uncanny relationships. She graduated from the Performing Arts programme at DAS Theatre in Amsterdam in 2013. Before this, she has completed a degree in Contemporary Dance at Laban Centre in London. Sonja's work has been supported by many performing arts venues in Europe. She has recently exhibited at Den Frie Centre for Contemporary Art in Copenhagen and Dr Guislaan Museum in Ghent. Her latest performance work ÖH premiered at Zodiak Centre and Moving in November festival 2020, in Helsinki.
Related Content
© Something Great, 2022. All rights reserved.
The contents of this article are protected by German copyright law and cannot be used without our permission.