Portrait
Aydın Teker: an artist of true inspiration
Aydin Teker is a unique artist who committed her life to respect her singular vision – and sharing it with the world. Today, almost in her seventies, she remains one of Turkey's most active and innovative choreographers. Her diverse body of work stands testament to her enduring creativity, and her performances have that kind of impact that stays for a long time after you've seen it. The following interview attempts to offer an in-depth look into the career and creative process of this iconic artist of the Turkish contemporary dance scene from 1980 to the present.
By Rui Silveira - Something Great
Published on 04/08/2021
aKabi (2005) a choreography Aydin Teker, part of the Something Great Collection. Photograph © Elio Montanari. Courtesy of the artist.

Who is Aydın Teker in her own words?

First of all, I'm 68 years old; I am a very lucky woman. I always did the things I most like. Conditions have caused me to be a professional student all my life. I learned while I was teaching and choreographing. That became a way of living for me. My growth was slow and persistent. Each project helped me to go up to another step. Success never blew me up. In other words, it was something that I was never looking for; I was looking to create something beyond the words and mind, something out of guts. Sometimes I got it, sometimes not, but I kept searching for it.
How did dance enter into your life?
It was entirely by chance. At that time, we didn't have any television in our home yet. Reading newspapers and listening to the radio was how we achieved our relationship with the world.
I think I was eight years old when my grandmother took me to see a ballet recital at the Ankara State Conservatory. I must have loved it so much that two years later, I became a ballet student there. I studied for eleven years at the same school. Hard work and discipline was not a problem for me. But we were always repeating the same movements and never moved freely.
After seeing
Kurt Jooss' green table
when I was 17, I decided to become a choreographer.
You had an education as a ballerina; in the 80s, you were creating modern choreographies. How did you come to working with objects?
It was a long journey. It took me twenty years to be ready to work with objects.
KÖM-ÜR (1992) a choreography Aydin Teker for the Seratonin II Art Activities at the Yedikule Gazhanesi Istanbul, Turkey. Photographs © Bahar Vidinlioğlu. Courtesy of the artist.
How did your artistic practice develop throughout the years?

In November 2015, I was invited as a guest speaker for the panel "
Dynamics of Labour in Dance and Choreography in Istanbul: Discussing Choreographic Modes of Production In the Light of 4 Different Examples by 4 Generations of Artists
" which was part of Ayşe Orhon's project "
Izlek
" held in the frame of the
festival Amber 15'
at santralistanbul in Istanbul. While preparing my speech, I noticed a very important development regarding my choreographic process: without exception, my creation process changed every ten years, evolving into a new era.
The
1980s
passed through introducing modern dance to classical ballet students at the Istanbul State Conservatory and producing appropriate repertoire pieces for them.
The
1990s
, on the other hand, caused me to meet with space while driving me away from the stage. This meeting was a revolution for me. My relationship with space developed in two phases. The first one allowed me to discover unlimited new affinities between time-space and movement with an existing choreography. In the second stage, I found the power of the space. So the starting point of my dance and my inspiration came from space. As a result, much deeper new relationships emerged between the body and space. That required an inevitable process to take place in that space.
In the
2000
s, my creation process turned into a new era while meeting the stage again. In this period, the main feature of my work was to be process-oriented rather than result-oriented. In ten years, I produced only three pieces which took an average of three years for each choreography to emerge. My way of working turned into a "laboratory" environment. No longer, the choreography was a long, endless journey for me with my dancers to explore the limits of the human body. Curiosity, courage, patience and creativity were indispensable for this journey.
In the
2010s
, unexpectedly theatrical elements, more precisely human relations and interactions, have been included in my creation process.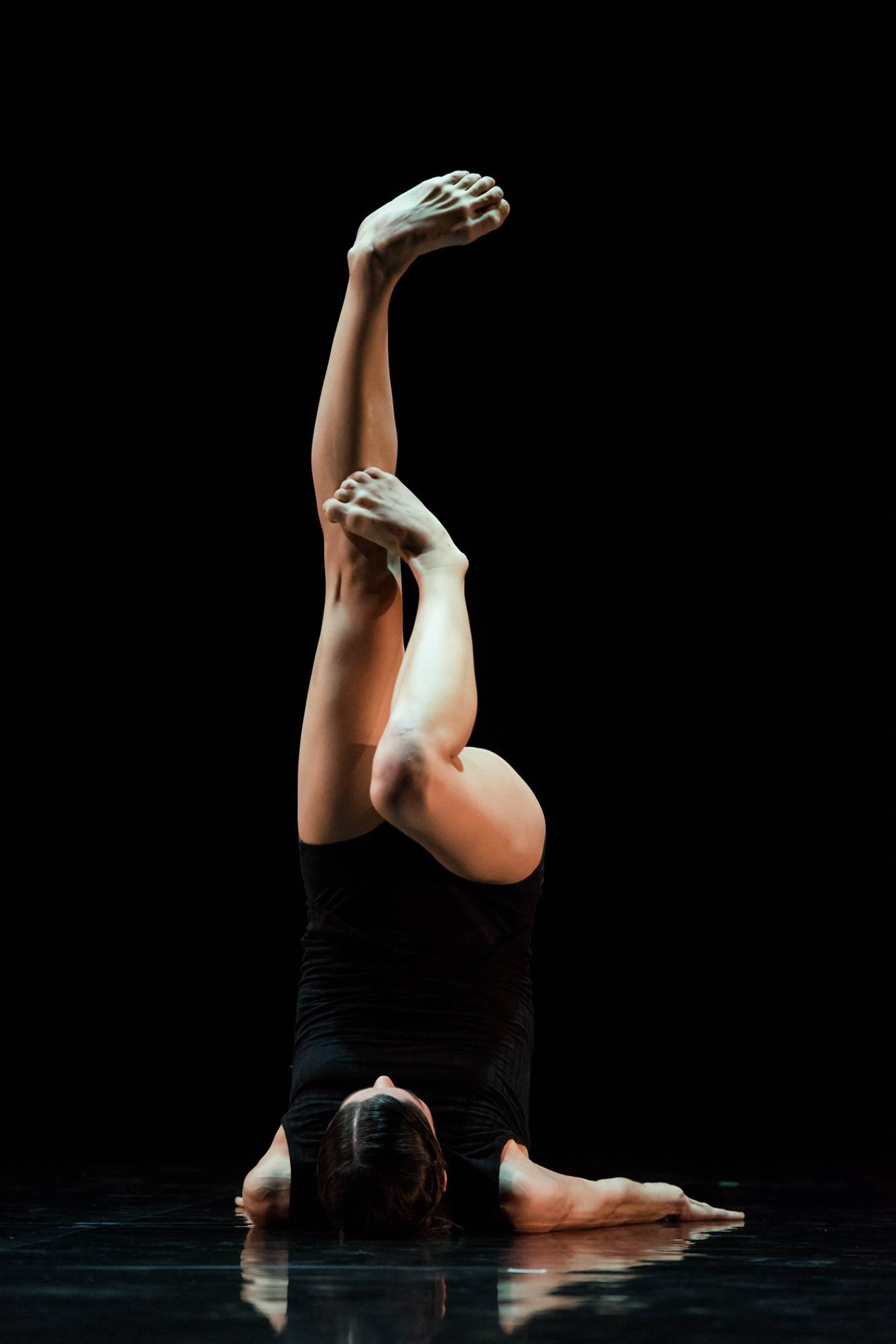 STHK (2000) by Aydin Teker, a section of Density (2001) performed by Ayse Oroh (black and white) and Kelly Knox ( colour). premiered at MSÜ Tophane, Istanbul-Turkey © Aydin Teker
MZ: At what stage of your career you have created these three works: aKabi, harS, Hallo!?

AK: "aKabi" and "harS" were created in the 2000'th and "Hallo!" was created in the last decade.
Why do you think you always liked to challenge your dancers' bodies with physical obstacles?

My interest in the body and its movements began quite early. During my student years, I observed my friends in the dance classes and tried to find solutions to their technical problems. After starting to give anatomy classes in later years, this interest turned into a passion. As a choreographer, approaching the body with a different aesthetic, my dancers' bodies naturally began to challenge. That excited all of us and encouraged us to go beyond the limits of our bodies. It was a natural development.
In both aKabi and harS, among other works, you have worked with Ayse Orhon. How did this meeting happen?

To answer this question I have to talk about "Density" shortly. It took place at Zürich Theatre Spektakel in 2001 and got a special award. After the premiere, one of the dancer, Kelly Knox, returned to her country, the United States of America. Kelly had very loose joints, and I created especially for her "STKH", a feet choreography, which was part of "Density". We couldn't perform "Density" for two years because I couldn't find a dancer to replace Kelly. Then Ayşe Orhon came back to Turkey after finishing her studies at Tanzhaus NRW in Düsseldorf, and her feet could do the score of "STKH". She performed all of Kelly's parts. In a way, she saved the piece.
Density (2001) by Aydin Teker. Premiered at the Istanbul Cultural Center, Istanbul, Turkey © Aydin Teker
After "Density", a new idea arose one evening while I was watching a dance performance. In that performance, the dancer entered on stage with only one of her high heels. That situation lasted not more than thirty seconds, but it was enough to get curious about asymmetry and imbalance. When I left the theatre that evening, I knew I was going to work with shoes. Then, I began to look for a shoemaker. Finally, I found one in Beyoglu Istanbul. He was making wild shiny shoes for travesties. I asked him to make platform shoes. In the beginning, he wasn't willing to. But over time, he became part of the project because we often visited him to fix our torn shoes and for different style shoes that we wanted to order.


Rehearsals of Aydin Teker's aKabi (2005) © Elio Montanare

The process of "
aKabi
" was not easy, but I was fortunate to have exceptional dancers. They were Ayşe Orhon, Serap Meriç, Şebnem Yüksel, and Emre Olcay. During the first few weeks of the creation process, they tried to find balance on awkward body positions while wearing 15 cm high shoes. When they were comfortable enough, they began to explore the movement possibilities in those positions. Of course, to be able to move into another awkward position, they had to discover that position's centre of gravity and then change it. It was amazing to see the development of their
proprioceptive system
.
So initially, when I requested them to try a movement, usually the first reaction was impossible. Still, instead of giving up, the dancers kept trying to respond to my request or even going beyond it. As we were totally into research, we began to order shoes of different heights and shapes. We had to develop new exercises to prepare the dancers' leg muscles for the different types of shoes we wanted to try and prevent injuries.
Rehearsals could take up to three hours, and it was necessary to take a break after three days. We spent the first one and a half hours doing the exercises then rehearse in the remaining time. The bodies were very different from each other. Therefore they couldn't reach the desired result at the same time. That's why we were cautious about giving everybody the time each one needed.
Rehearsals of Aydin Teker's aKabi (2005) © Elio Montanare
In the middle of our creation process, I got a telephone call from Switzerland. They were going to publish a book about the Mediterranean region, and I was one of the artists from Istanbul. Also, they asked if I had a new piece after Density. I told them I was working on something, but we were ready to show it yet. In any case, they wanted to see some pictures. After sending the photos, I got another phone call. They wanted to invite the piece even in that condition, and soon after, we were in Bern.
After the performance, I saw Marcus Luchsinger in the foyer. He was the artistic director of Zürich Theatre Spektakel when we perform "Density" in Zürich. He invited me only after he saw the videos of "STKH" and "Renewal". Now he was the programmer of the Spielzeiteuropa in Berlin, and he invited me to the festival after seeing only half of aKabi. From that moment on, I had one year to finish the piece. But especially after beginning to work with big shoes, we had great difficulty finding a place to rehearse. Thanks to Mark Deputter, by then, director of the Alkantara Festival in Lisbon, we had a month's residence in Portugal. That residency helped us to develop the rest of the work.
The premiere of "aKabi" took place in November 2005 at the Berliner Festspiele's festival
Spielzeiteuropa.
After that, the piece toured extensively around the world for seven consecutive years.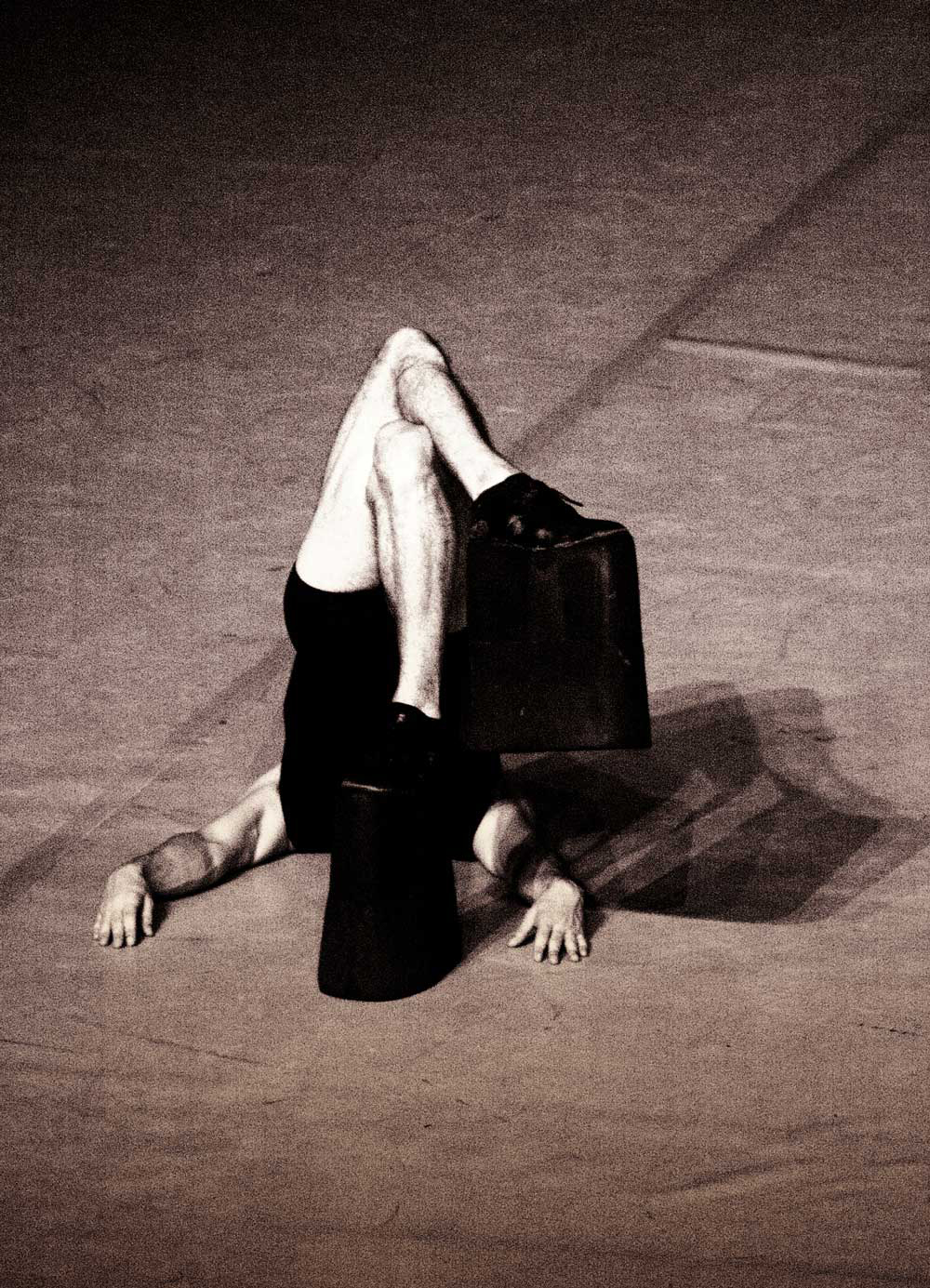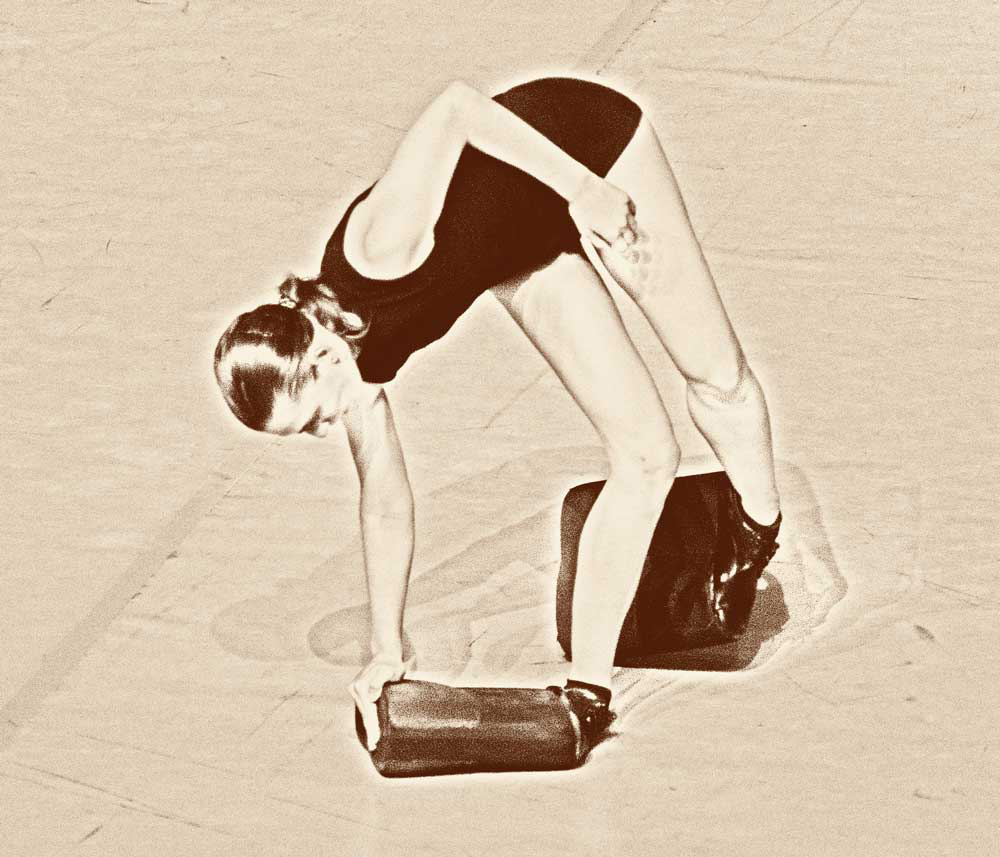 Aydin Teker's aKabi © Levent Öget
The seeds of "
harS
" were sown on a Paris tour while chatting with Ayse Orhon in a cafe. Ayse studied part-time harp at the Istanbul State Conservatory and I collaborated with a composer Luke Stoneham and a double-bass player Lucy Show in London 2001. We returned back to Istanbul with a harp made of poly carbon; weighing 18 kg which we bought the day before the end of our tour.
harS (2008) by Aydin Teker with Ayse Oroh © Ebru Anıt Ahunbay
As usual, there was a problem to find rehearsal spaces in Istanbul, but when we managed to find a space, carrying the harp everyday to the rehearsal space became another problem. However, one day a miracle happened: my younger brother, a businessman at that time, offered me a space of 200 square meters. I was very lucky and used that space for ten years free-of-charge.
We started rehearsing with enormous excitement. However, getting to know the instrument and having a real relationship with it took us months or even years. For a long time, the relationship between Ayse and the harp could not go beyond a formal one because the instrument was too aesthetic. With time, the 18 kg instrument found its own identity and became a suitable partner for Ayse's strong presence.
The problems in the process did not end with this. What was Ayse going to do as a musician? In the beginning, we didn't know how to deal with it. I think I caused the problem. From the beginning, I had the opinion that Ayse should also play the arp as a musician. This point of view did not suit my approach to choreography. During the process, I would let them be spontaneous rather than decide something.
During the process, we invited many composers to collaborate. They were very impressed when they watched the rehearsal, but they couldn't see themselves being part of the project. In the meantime, Ayse started to improvise independently, and I began to record the parts that I thought would fit the piece.
One day the young composer Evrim Demirel, who just returned from Holland, watched the rehearsal. He said very positive things and gave a few suggestions. The next time when he came again to the rehearsals, he said that everything was working.
There was also another miracle that happened one day. Generally, we were rehearsing in the evenings because I was teaching daytime. It was late, Ayse was very tired, and I was stuck. Whenever we got stuck, I would ask Ayse to do something silly. She embraced the harp and started to spin slowly around herself. After a while, a sound similar to a
laterna
began to come from the street. I couldn't believe my ears. Who was playing laterna in Istanbul at that time of night? It took me some time to realize that the sound was coming from the harp. That night the piece decided to finish itself.
"HarS" premiered in Brussels at Kunstenfestivaldesarts in May 2008.
Going back to aKabi, did the shoemaker saw the performance? Are you still in touch?

AK: No, he never saw the piece. During one of the economic crises in Turkey, he had to move his workplace to another district. When we asked him if he could do more shoes for us, we learned that he handed over all the necessary tools to someone else.
How long were you rehearsing aKabi?

I think around two and a half years.
Aydin Teker's aKabi © Levent Öget

If you were to restage the piece again, would you change anything in the choreography, directing approach?

I already restaged the second half of the piece twice for the repertory classes. Students had to work 12 hours each week for two semesters. Each student learned the solos of the original dancers before getting up from the floor. But instead of using these movements, I encouraged them to create their own solos, and I choreographed a new version with many dancers. There were compelling moments like standing up with their own timing and walking to the audience.

But I am not sure if I would wish to change the first part of the piece. This section needed to be pure and absolute at any moment and took us a long time to achieve it. For me, this is very valuable and should be protected as it was.

If you could work with any object, no matter the production cost, what would it be?

I wanted to work with magnets for a while. Can a body and a magnet be integrated? Connecting two magnet bodies can create new relationships. What happens if a magnet body meets a static magnet? I could not try it because I could not find any information about whether it could harm the body metabolic processes. It was complicated to find someone even to discuss the idea. Then I realized that I would never have access to reliable information and soothed my excitement.
.
What is the most important creative lesson you have learned?

Every creation taught me a creative lesson and helped me develop as a choreographer and as a human being.
I was always very sensitive to the body itself and its relations to space and objects, but there was a critical deficiency in my creativity: human emotions. "
Hallo!"
helped me to realize it.
What message do you have for the younger generation of up-and-coming artists today? Any words of wisdom?

Don't try to rise to the top immediately. The creative process itself is more interesting than the result. Try to enjoy every moment of it.
While creating, don't explore the materials horizontally. Try to go vertically. It's not easy but fascinating and a great way to develop. Worth trying.
Aydin Teker Portrait. August 2018, HAU Hebbel am Ufer, Berlin - Germany in the occasion of Tanz im August 2018 © Axel Lambrette



Aydın Teker graduated from Ankara State Conservatory in 1973 and joined Ankara State Opera and Ballet as a dancer. In 1976 she got a scholarship and first went to London and then to the USA. She received her B.F.A. and M.F.A. from New York University's Tisch School of the Arts. In 1982 she came back to Turkey and started working as a modern dance Instructor and choreographer at Mimar Sinan Fine Arts University State Conservatory. In 1993 Teker won the Fulbright Research Fellowship went back to New York for a year. While exploring the latest developments in somatic theories she also continued working on her choreographic work. After returning back to Turkey she continued teaching MSGSU Modern Dance Department. She gave great importance to the knowledge of anatomy in all her works. With special permission from universities she participated in Anatomy Lessons at Istanbul University Faculty of Medicine Summer School to examine the level of anatomy knowledge a dance student needs. Her anatomy-based classical technique lessons, which she transformed into a laboratory environment, played an important role in students' gaining the ability to perceive and analyze their own development in multidimensional ways. In 2015 after teaching for 33 years, Aydın Teker retired from her position as the head of Mimar Sinan Fine Arts University, Contemporary Dance Department and Performing Arts Department.

Related Content
Something Great Collection
© Something Great, 2022. All rights reserved.

The contents of this article are protected by German copyright law and they cannot be used without our permission.