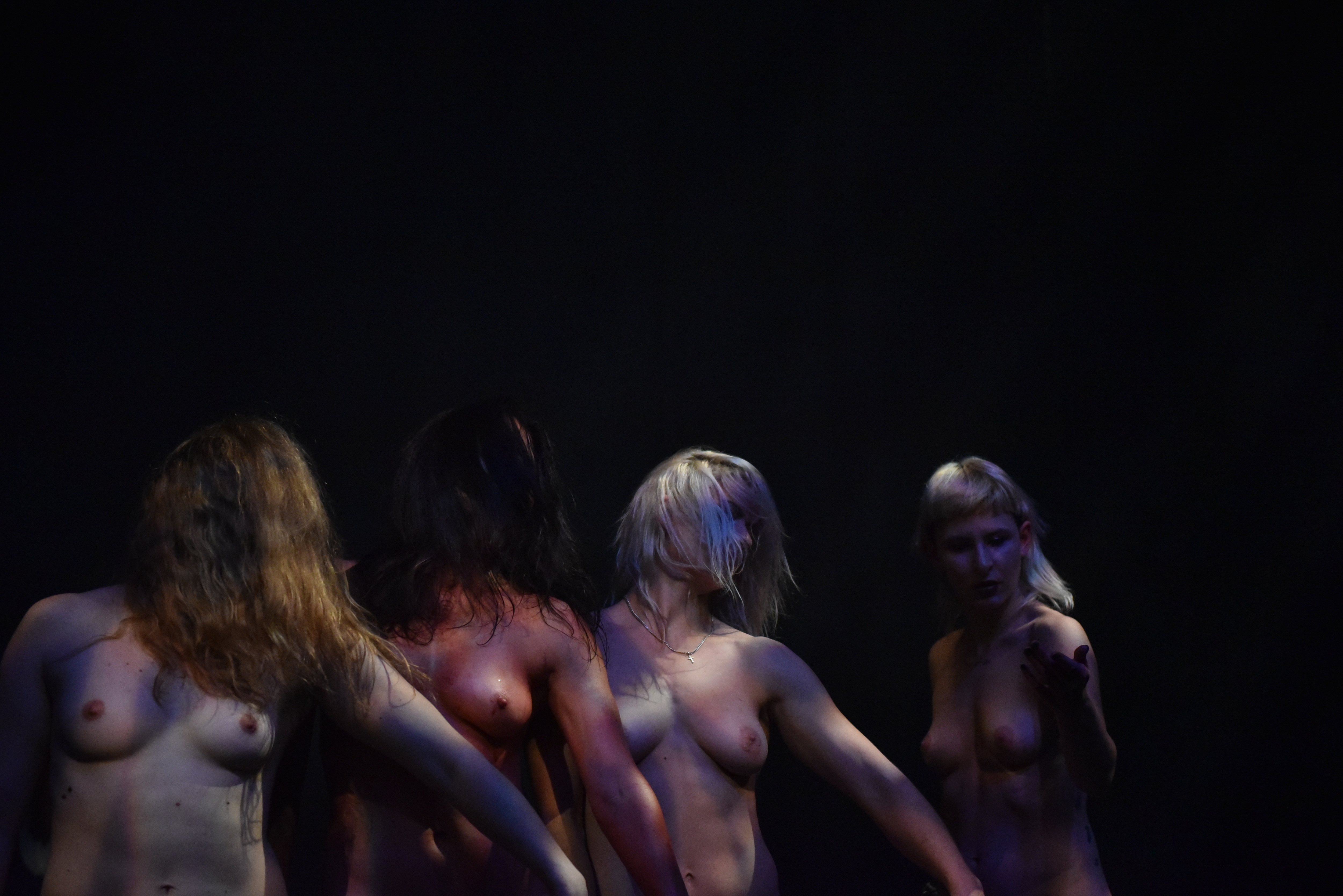 © Radouan Dvranga / Florentina Holzinger.
TANZ
World premiere:
03/10/2019 – Tanzquartier Wien (AT)
TANZ is a new creation by Florentina Holzinger that completes the trilogy
Recovery,
Apollon
and TANZ that revolves around the concept of the body as a spectacle, and its disciplining.
A ballet class under the direction of Beatrice Schönherr, the first ballerina to dance
Le Sacre de Printemps
naked (John Neumeier's Le Sacre, 1972), provides the framework for TANZ. The performers undergo rigorous training in "action ballet", the so-called "sylphic studies". In joint rituals, they learn to master their bodies and minds, and they acquire supernatural powers, such as flying. A quest for perfection in an ephemeral world, during which the gross is transformed into the sublime. In an operatic setting, brutal parodies of sensationalist images emerge, as seen in ballet, comedy and pornography. The gaze regime finds reflection in the character of a porn producer who documents the performance. With a cast of women between the ages of twenty and eighty, all of whom have different backgrounds in dance, TANZ raises the question of the legacy of dance. How can the cult of beauty inherent in this tradition be reconciled?
CREDITS
Concept/Performance/Choreography
Florentina Holzinger
Performance by and with
Renée Copraij, Trixie Cordua, Evelyn Frantti, Lucifire, Annina Lara, Maria Machaz, Maria Netti Nüganen, Suzn Payson, Laura Stokes, Veronica Thompson, Lydia Darling
Video design/Live camera
Josefin Arnell
Sound design/Sound Technician
Stefan Schneider
Light design/Technical director
Anne Meeussen
Stage design
Nikola Knezevic
Dramaturgy
Renée Copraij, Sara Ostertag
Coaching
Btissame Amadour, Ghani Minne, Dave Tusk
Stunt support
Haeger Stunt & Wireworks
Stunt instructors
Stunt Cloud GmbH (Leo Plank, Phong Giang, Sandra Barger)
Management
Something Great (Berlin - DE) & DANSCO (Amsterdam - NL)
International distribution
Something Great (Berlin - DE)
Production
Spirit
Executive Production
Laura Andreß
Financial administration
Julia Haas/SMART (Vienna - AT)
Co-produced by
Tanzquartier Wien (Vienna - AT)
Spring Festival (Utrecht - NL)
Theatre Rotterdam (Rotterdam - NL),
Mousonturm (Frankfurt - DE)
Arsenic (Lausanne - CH)
Münchner Kammerspiele (Munich - DE)
Take Me Somewhere (Glasgow - UK)
Beursshouwburg (Brussels, BE)
deSingel (Antwerp - BE)
Sophiensaele (Berlin - DE)
Frascati Productions (Amsterdam -NL),
Theater im Pumpenhaus (Muenster – DE)
Supported by
O Espaço do Tempo (Montemor-o-Novo – PT) and Fondation LUMA (Arles - FR
Thanks to
the students of Wigs, Make-up and Special Make-up Effects for Stage and Screen, Theaterakademie August Everding, Munich.
Funded by
the Cultural Department of the City of Vienna, Performing Arts Fund NL