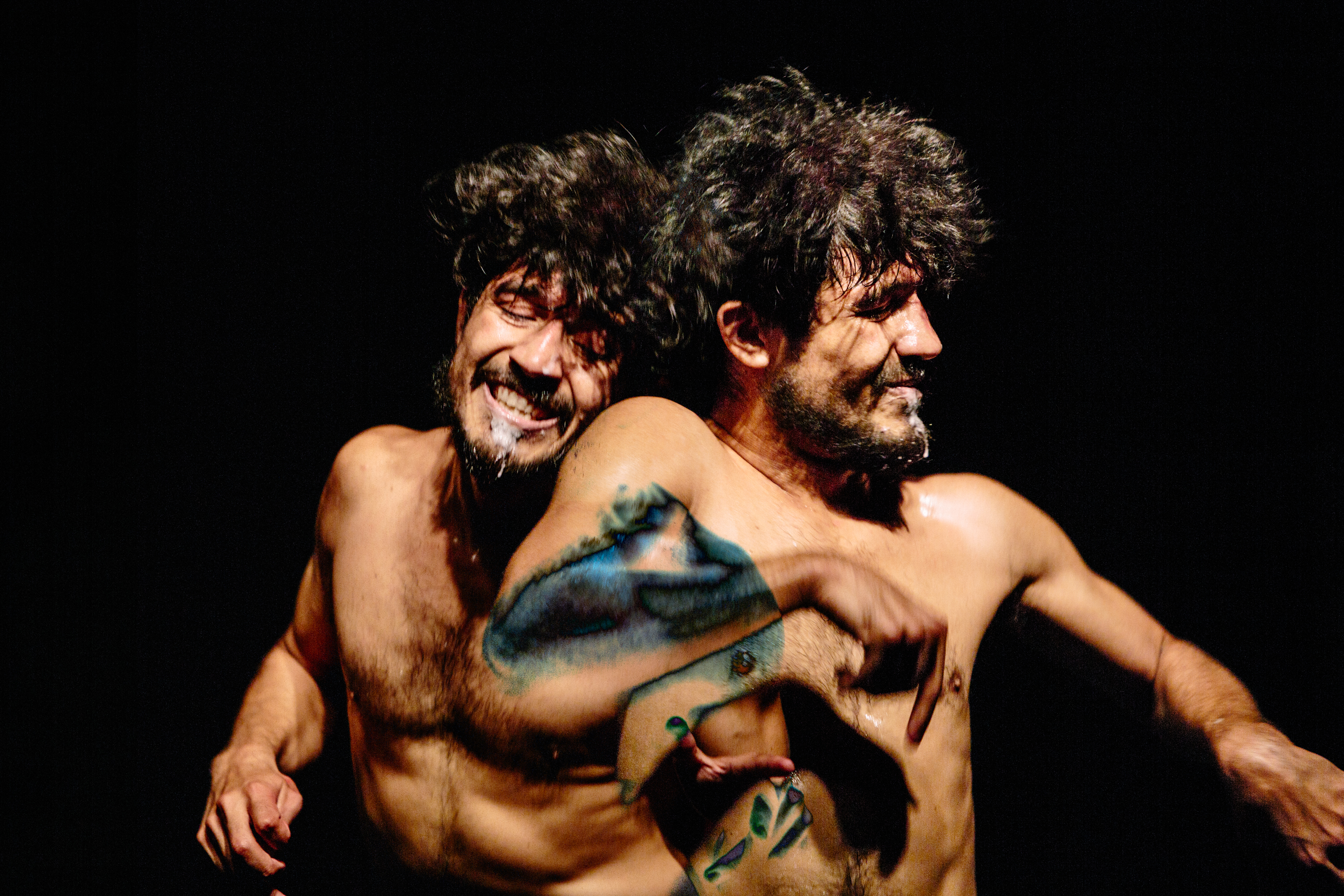 Photographs: Iron Mouth © Elisa Mendes, Gelson Catatau
Iron Mouth
He dances like a madman to sordid Latin American rhythms. Among the spectators, the dancer Ícaro dos Passos Gaya delivers the final blow. The beats that we hear refer back to northern Brazil's smuggling routes in the 1950s and the uplifting music that came from it.

The traditional music of the Pará region in Brazil has its roots in the Caribbean rhythms. As well as perfume and whiskey, smugglers from the area also introduced the merengue, the salsa and the zouk. Wild parties were held to that music, announced through a person with a megaphone, known as the so-called 'Boca de Ferro', or 'iron mouth'. More than sixty years later, music and culture live on in the Tecno Brega's furious beats. Every month there are around 3000 Tecno Brega parties in this region.

In this solo by the Brazilian choreographer Marcela Levi and the Argentinian Lucía Russo, the audience and dancer are in the same room. The performer's ecstasy, sweat and exhaustion are unavoidable. The Tecno Brega beats rain down, the man becomes possessed by it. It is a hellish dance, irreverent, playful, provocative, fierce, crafty and sensual. This is music that takes possession of the dancers. In that possessed state, all the good and bad sides of people come to the surface in an ecstatic manifestation of humanity.
CREDITS
Artistic direction
Marcela Levi
Lucía Russo
Performance and co-creation
Ícaro dos Passos Gaya
Assistant
Tamires Costa
Sound and costume design
All team
Light design
Isadora Giuntini
Production
Improvável Produções
Co-Production & Distribution
Something Great
Supported by
Centro Coreográfico do Rio de Janeiro, Consulado de Argentina en Rio de Janeiro, Espaço Cultural Sitio Canto da Sabiá, Dança Gamboa, Graner / Sâlmon Festival and Sala Hiroshima