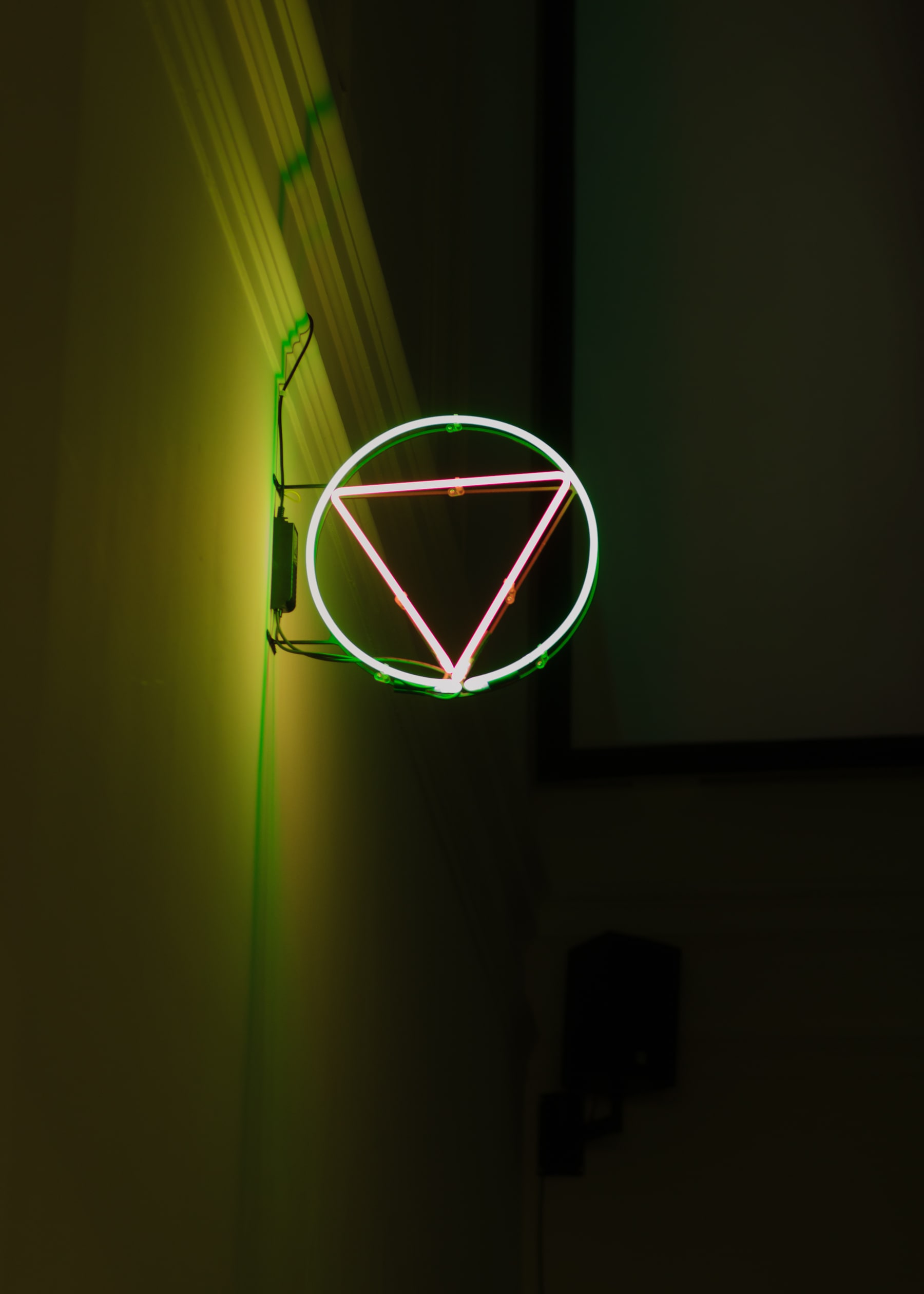 Alex Baczyński-Jenkins, Untitled (Holding Horizon), 2018. Photo: 1+ 2+3: Performance at Kunsthalle Basel within the frame of Alex Baczynski-Jenkin's solo exhibition Such Feeling. 2019. Courtesy of Kunsthalle Basel. Photo © Diana Pfammatter Photo 4: Performance part of Meetings on Art, 58th Venice Biennale, 2019. Courtesy of Delfina Foundation & Arts Council England Photo ©Riccardo Banfi.
Untitled (Holding Horizon)

Untitled (Holding Horizon) is a choreography that continues Alex Baczyński-Jenkins' engagement with negotiations of desire, the materiality of gestures, and affections of a queer commons. Through sensual, alienated gestures and the box step –a movement used in several social dances– synchronization, pleasure and alliance coexist with disorientation, limitation, and loss.

On the thresholds of visibility and invisibility, the performers navigate the fluctuating dynamics of collectivity, intimacy, and interdependence. They affect, and become affected by, the live mixed sound and light, while repetition and duration elicit shifting perceptions and associations. A memory of a rave, a ghostly gathering, a celebration and mourning, a militant congregation, a pastoral imaginary. In this altered state, the box step becomes a vessel for the limit as material.

Untitled (Holding Horizon) relies on a durational experience. The audience will be able to enter and leave the space at their leisure

CREDITS
Choreography
Alex Baczyński-Jenkins

In collaboration with and performed by
Aaa Biczysko
Ewa Dziarnowska
Rafał Pierzyński
Ronald Berger
Sigrid Stigsdatter

Developed with
Aaa Biczysko
Ewa Dziarnowska
Rafał Pierzyński
Sigrid Stigsdatter
Tiran Normanson

With special thanks to
Billy Morgan

Developed as part of
Kem's residency at the Ujazdowski Castle Center for Contemporary Art, Warsaw

Production manager
Ola Knychalska

Live sound and lighting
Krzysztof Bagiński

Sound research
Jana Androsova
Krzysztof Bagiński
Tobias Koch
Filip Lech

Styling advice
Rafał Domagła

Originally commissioned for the
2018 Frieze Artist Award
, in partnership with
Delfina Foundation
, and presented as part of
Frieze Projects
, curated by
Diana Campbell Betancourt
A production by
Alex Baczyński-Jenkins Studio

Studio director
Andrea Rodrigo

Studio manager
Sarie Nijboer

Management Consultant
Rui Silveira

Distribution
Something Great

Duration
3 hours (entry/exit possible continuously)

Previous iterations include:
London's Frieze Art Fair, UK, 2018; 58th Venice Biennale in the context of Meetings on Art with Delfina Foundation, Venice Italy, 2019; Kunsthalle Basel as part of Alex Baczynski-Jenkins' solo exhibition Such Feeling, Basel, Swizerland, 2019; Arsenic - Centre d'Art Scénique Contemporain, Lausanne, Switzerland, 2020; Ephemera Festival, Warsaw, Poland, 2020; De Singel - International Arts Centre, Antwerp, Belgium, 2021; Santarcangelo Festival, Santarcangelo di Romagna, Italy, 2022.
For information about other iterations, please click
here

.