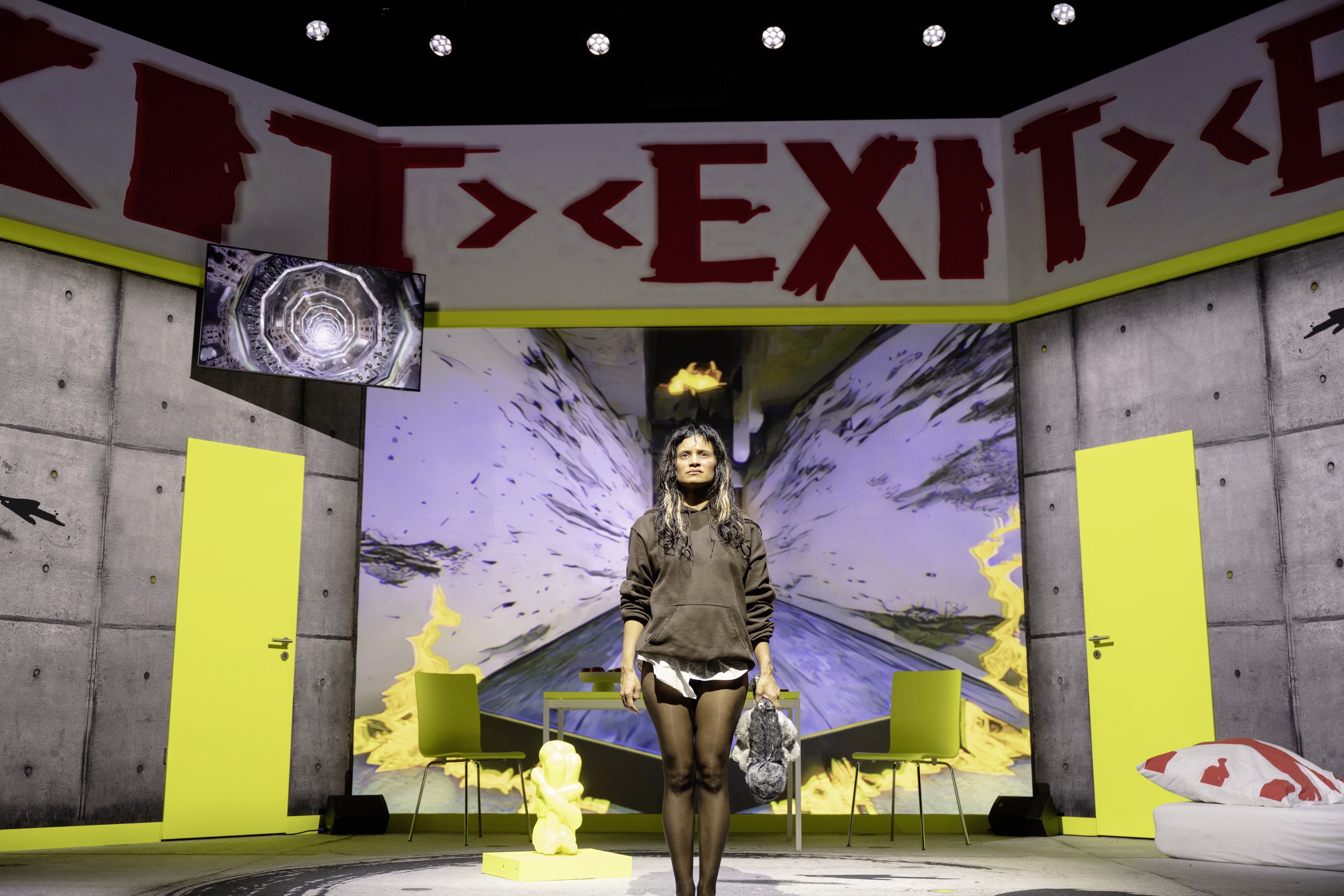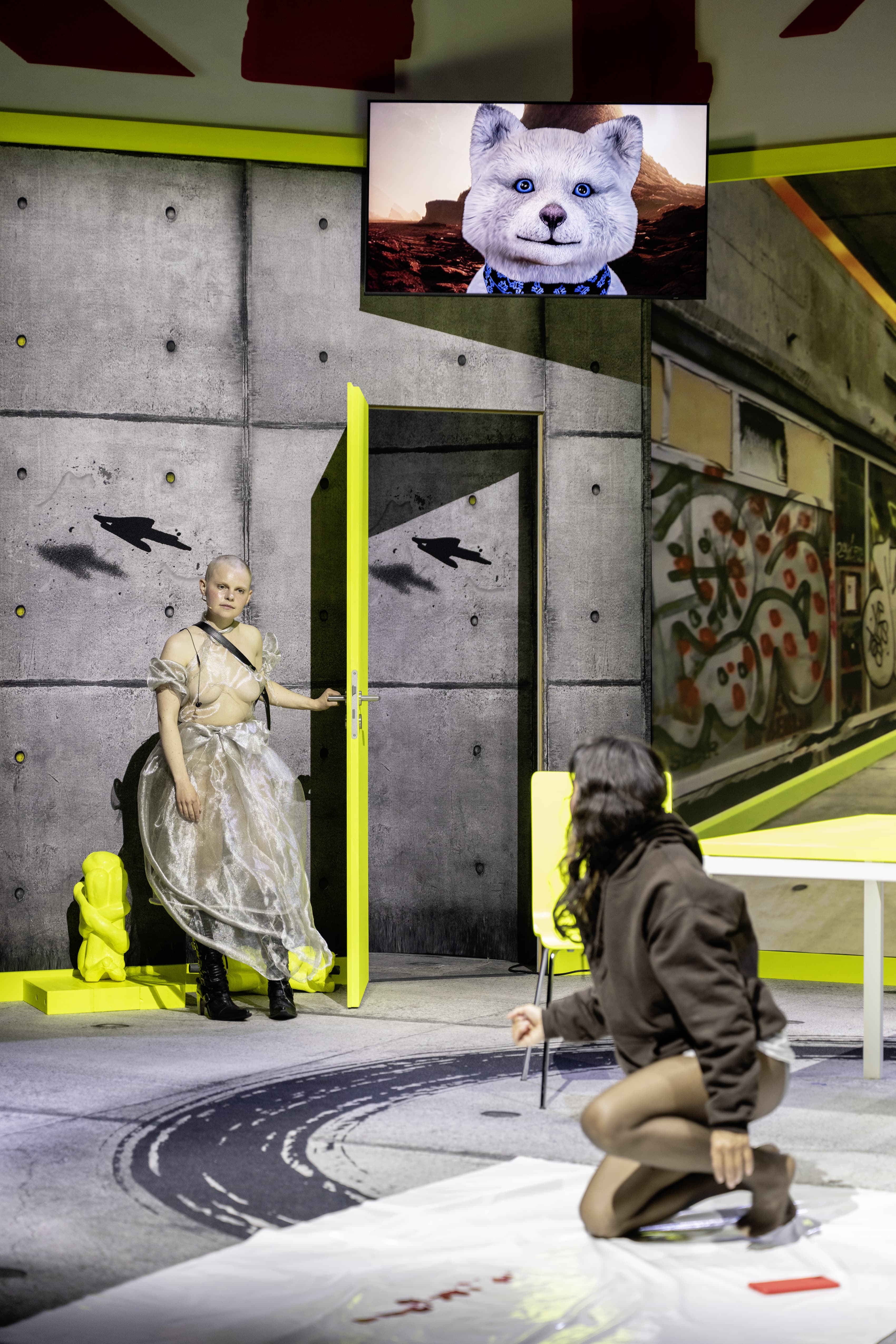 ANGELA (a strange loop) by Susanne Kennedy & Markus Selg. Performance at Théâtre National Wallonie-Bruxelles as part of the opening of Kunstenfestivaldesarts, Brussels, May 2023. Courtesy of the artists and Kunstenfestivaldesarts. Photo: Julian Röder, 2023. Video interview: José Huedo.
ANGELA
(a strange loop)

In ANGELA (a strange loop), the latest creation by Susanne Kennedy & Markus Selg, a woman's life unfolds before our eyes in a space that constantly transforms, switching between real and virtual as we follow Angela through waking and sleeping, being born and giving birth, sickness and healing, ageing and dying. But what makes Angela Angela? With their metamodernistic aesthetic and multimedia approach, Susanne Kennedy and Markus Selg, delve into the fundamental inquiries of existence, identity, consciousness, and the nature of reality. Through their unique artistic lens, they provide a distinctive analysis that explores the experiences of the diseased rather than the healthy. By challenging societal norms and perceptions, they beckon us to question the very fabric of our existence, inviting contemplation of the intricate nuances of human experience and the interconnectedness of our shared realities.

CREDITS
Concept, text and direction
Susanne Kennedy

Concept and stage design
Markus Selg

Performers
Diamanda La Berge Dramm
Ixchel Mendoza Hernández
Kate Strong
Tarren Johnson
Dominic Santia

Sound design
Richard Alexander

Soundtrack
Diamanda Dramm
Richard Alexander

Live music
Diamanda Dramm

Video design
Rodrik Biersteker

Markus Selg

Costume design
Andra Dumitrascu

Dramaturgy
Helena Eckert

Light design
Rainer Casper

Artistic Collaboration & Tours Deputy Artistic Direction
Friederike Kötter
Voices
Diamanda La Berge Dramm
Cathal Sheerin
Kate Strong
Rita Kahn Chen
Rubina Schuth
Tarren Johnson
Susanne Kennedy
Ethan Braun
Dominic Santia
Ixchel Mendoza Hernández
Marie Schleef
Ruth Rosenfeld

Production
Ultraworld Productions
in collaboration with
Something Great
Coproduction

Wiener Festwochen
(Vienna),
Festival d'Automne à Paris & Odéon - Théâtre de l'Europe
(Paris)
, Festival d'Avignon
(Avignon)
, Holland Festival
(Amsterdam)
, Kunstenfestivaldesarts
(Brussels)
, National Theatre Drama - Prague Crossroads
(Prague)
, Romaeuropa Festival
(Rome)
, Teatro Nacional de São João
(Porto) and
Volksbühne am Rosa-Luxemburg-Platz
(Berlin).
General Management
Rui Silveira, Something Great
Artistic Production manager
Philip Decker

Technical Production Manager
Sven Nichterlein
Tour Production Manager
Niki Fischer - Something Great
Luca Napoli - Something Great
International Distribution
Cathal Sheerin, Something Great
Cecilia Kuska, Something Great

Rui Silveira, Something Great

Supported by Stichting Ammodo (Ammodo Foundation) and the Kulturstiftung des Bundes (German Federal Cultural Foundation) with funding by the Beauftragte der Bundesregierung für Kultur und Medien (German Federal Government Commissioner for Culture and the Media)

World premiere: May 11, 2023, at Théâtre National Wallonie Bruxelles as part of Kunstenfestivaldesarts.