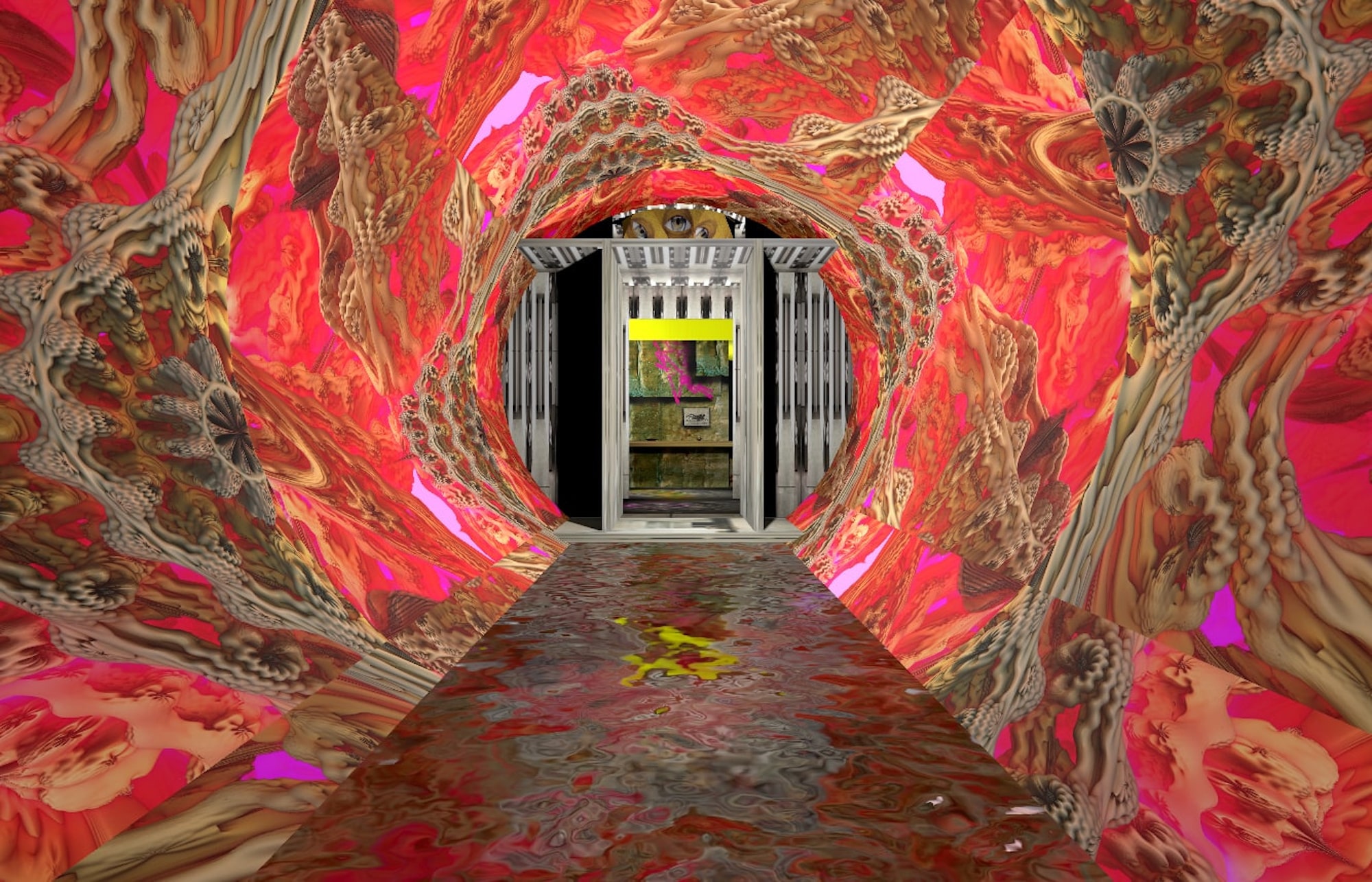 © Markus Selg, Rodrik Biersteker

I AM (VR)
by
Susanne Kennedy & Markus Selg
in collaboration with
Rodrik Biersteker
Welcome to the other side: theater in virtual reality. In "I AM (VR)", Susanne Kennedy and Markus Selg, in collaboration with Rodrik Biersteker, explore new dimensions in immersive theatre. Spectators are invited to be transported to a virtual world. As their awareness of this new reality is heightened, they are given the opportunity to meet the oracle. The future is seen through the algorithms of fractals. What question do you have for the oracle?
CREDITS
Concept and Design
Susanne Kennedy
Markus Selg
Rodrik Biersteker
Programming
Rodrik Biersteker

Visual Design
Markus Selg, Rodrik Biersteker

Sound Design & Composition
Richard Janssen

Text
Susanne Kennedy

Dramaturgy
Tobias Staab

Voices
Susanne Kennedy
Ixchel Mendoza Hernandez
Frank Willens
Ibadet Ramadani
Avatars
Ixchel Mendoza Hernandez
Benjamin Radjaipour
Thomas Hauser

Costume
Teresa Vergho
Production
Ultraworld Productions

Management and Distribution
Something Great

Co-Production
Berliner Festspiele
Hybrid Box / Hellerau - Europäisches Zentrum der Künste
Internationales Sommerfestival Kampnagel
Münchner Kammerspiele
Noorderzon Festival of Performing Arts & Society
Schauspielhaus Bochum / Oval Office
Theater Commons Tokyo
Volkstheater Wien

Thanks to
Chiaki Soma, Christoph Gurk, the whole Oracle Team, Rafael Steinhauser, Anna Rausch, Lucas S. Maximiliano, Matthias Lilienthal
BIOGRAPHIES
Susanne Kennedy (Germany, 1977) studied direction at the Hogeschool voor de Kunsten in Amsterdam, debuted on the Dutch stage. In 2011 she was invited to work at the Münchner Kammerspiele. For "Fegefeuer in Ingolstadt," she was voted Young Director of the Year by Theater heute magazine in 2013. In recent years, she has been based at Volksbühne Berlin and Münchner Kammerspiele, produced "Ultraworld" and "Oracle" with Markus Selg in 2020. Distorted by masks, playback dialogue, doppelgängers and multimedia, the actors confront the audience with the question: what does it mean to be human?

Markus Selg (Germany, 1974) is a multimedia artist exploring the dynamics between archaic myth and computer technology in forms of digital painting, sculpture, immersive installations, theatre and VR. Selection of exhibitions / performances: "Coming Society" and "Ultraworld" 2019/2020 at Volksbühne Berlin. For "Ultraworld" he received the Faust Award 2020 for best stage design. He has been active across a variety of genres, including performing art, feature films, and opera productions.

Rodrik Biersteker (Netherlands, 1986) studied Design for Virtual Theater and Games at the HKU University of Arts in Utrecht. He is an interdisciplinary artist who primarily uses video and interactive technologies in a theatrical context. In recent years, there have been numerous collaborations with Susanne Kennedy, the latest being "Ultraworld" (2020) for he and Markus Selg were awarded the Faust prize for best stage/video design.